Shopping Cart
Your Cart is Empty
Thank you for your business!
You should be receiving an order confirmation from Paypal shortly.
Exit Shopping Cart
Internal Family Systems is now an Empirically Evidenced Model of Psychotherapy!!
CHOICES is ecstatic to report that at the 2015 IFS Conference in Providence RI held in November (2015), Research Committee members announced (and showed the letter!!) that the IFS Model has exhibited enough rigorous research results to deem the model worthy of the first level (Promising) of evidence validation. There are numerous rigorous outcome studies that are currently being conducted that are showing promising early results and the hope of the IFS Foundation (research initiative) is that the IFS model will soon be validated for the second level of empirical validation which is the "Good" level.
You can read more information about the research and empirical evidence base of IFS by clicking on the link below!
The Internal Family Systems Model of Therapy
The Internal Family Systems Model was developed by family therapist Richard Schwartz, PhD, to explain the inner conflicts and resulting problems that his clients had when recovering from past hurts or abusive life events. At CHOICES we appreciate this model because it normalizes the idea that all persons develop parts within themselves as they develop and difficulties with this only happen when parts are pushed into extreme roles as a result of abusive or other neglectful experiences. We have found the model very helpful in working with adults and children who have been traumatized and we use it also in explaining relationship dynamics between family members.
The strategies of IFS are very affirming in that the model proposes that every individual has a compassionate and caring Self that can be strengthened and taught to engage in self healing and empowerment. Currently at CHOICES we have three clinicians who have been formally trained in Internal Family Systems by the Center for Self Leadership (CSL). Lois Ehrmann has completed all three levels of IFS training as well as two week long retreats on Somatic IFS. She is a certified IFS Clinician. Karen Hansel and Evelyn Wald have both completed IFS Level 1 and are currently pursuing certification as well. All of the clinicians at CHOICES get IFS training through weekend introductory trainings facilitated by formally trained individuals as part of their employment at CHOICES. IFS is a compassionate way to "be" in today's world and the staff of CHOICES uses it regularly within ourselves, within relationships with each other and with our clients and their families.
The Main Concepts of Internal Family Systems Psychotherapy
A Book for Children about Internal Family Systems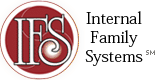 /